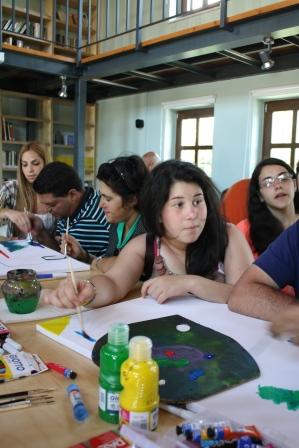 On Tuesday, July 23 visited the Library of the Lemos and the Offices of the CTP, the members of the association AGAPI, Friends of People with Special Needs from Cyprus and the Association of Parents of Children with Special Needs of Florina within the European program "Youth in Action" Youth Exchanges, Youth Foundation and Lifelong Learning, entitled: Action and Escape, Cooperation without Borders.
During the visit were informed about the actions of the Cultural Triangle of Prespes, the European Voluntary Service (EVS), under way the area since 2000 and with the help of staff and volunteers from Latvia, Spain and Portugal our visitors drew the beauty of Prespa so as they see it after their tour in the region.
Our visitors from Cyprus and Florina donated us some of their creations in a show of friendship and placed in the Library of Lemos where every visitor can admire.
Περισσότερα: Persons with Special Needs from Cyprus and Florina visit Cultural Triangle of Prespes
The secret of any online business is web hosting. Select the
best hosting
service reading offered by
justhost
.