Announcements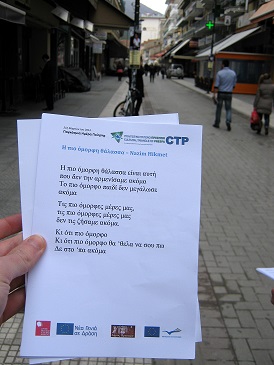 Yesterday at 21st of March the world celebrated the International Day of Poetry. Two of our EVS volunteers went to the nearest city, Florina and distributed leaflets with poetry of famous Greek and foreign poets. None of the people which we handed out a poem knew about the International Day of Poetry. But all were happy to receive a poem.
We hope that with the help of those wonderful poems we made the day of some people a bit more sunny! Let Poetry live! 
The secret of any online business is web hosting. Select the
best hosting
service reading offered by
justhost
.