Announcements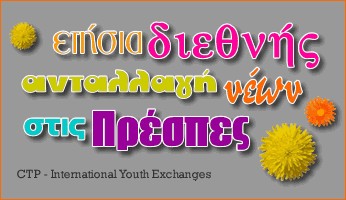 23rd of AUGUST – 2nd SEPTEMBER
Dates: 23rd of AUGUST – 2nd SEPTEMBER
Place: Prespa, Greece
Participants: 40 young people from Greece, Albania, Cyprus, FYR
Macedonia, Italy, Montenegro, Serbia, Turkey
Context: Youth in Action programme, Action 3.1.,
Host: Cultural Triangle of Prespa (CTP), Greece
SUMMARY
The Cultural Triangle of Prespa (CTP), a NGO based in the North of Greece in the National Park of Prespa is organizing a youth exchange with the title "Youth! Act Against Poverty" in summer 2012 under the scope of Action 3.1.1. of the Youth in Action Programme.
Our theme relates to the "Poverty and Marginalization" priority of the YiA and we aim to empower young people to become youth leaders and act against poverty in their communities.
For that, we have developed creative methodologies and activities that will boost their self-expression through art, IT and debating skills. The youth exchange "Youth! Act against Poverty" will take place in Prespa between the 23rd of August and the 2nd of September and focuses on the role of young people in the fight against Poverty and Discrimination starting from their immediate environment, the local community.
Using 5 levels (steps) of Non-Formal learning: information, discussion, creation, promotion, and campaigning will ensure the bottom up approach from creation to implementation and promotion with a wide range of creative and theoretical methodologies (painting, street acts, video-making, joomla editing (www.joomla.org), round-table debates and Skype calls with
international specialists).
Our methods will be based on activities to promote self-expression, relationship with others and critical thinking. Aim is the preparation of the participants to become youth leaders in their own communities. Apart from Greece there will be 7 countries involved (Serbia, Montenegro, Albania, FYRMacedonia, Cyprus, Turkey, Italy) with a total of 40 participants, from different
cultural and social backgrounds.
This is your chance to think out of the box and empower young people from your country, your community!

"This project has been funded with support from the European Commission. This publication [communication] reflects the views only of the author, and the Commission cannot be held responsible for any use which may be made of the information contained therein"  
The secret of any online business is web hosting. Select the
best hosting
service reading offered by
justhost
.